Class Events
Prior Reunions
See photos and other information from prior reunions and mini-reunions:
Our next major reunion will be our 55th Reunion in 2019. Jon McBride and Tony Lee have been named reunion chairmen.
In the meantime, we will have a mini-reunion in Canada in July 2018 (see the brochure). The featured attraction is a train excursion through the Canadian Rockies, preceded by three nights in Vancouver and followed by three nights in Banff. A survey of classmates in May 2017 showed significant interest, and we hope to see you there. John Evans is leading the planning team. See below for details.
Watch this space for developments as planning progresses.
---
Train Excursion Through the Canadian Rockies
July 11 - 22, 2018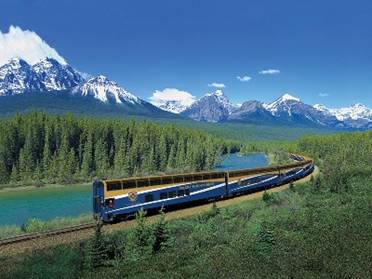 Explore the Canadian Rockies by train in the company of classmates, family and friends to see some of the most spectacular scenery in North America (see the brochure).
Travel north of the border between the United States and Western Canada to appreciate the history, geology and natural beauty of the provinces of British Columbia and Alberta.
We have arranged this tour for Yale '64 with the help of Yale Educational Travel and the Collette Travel Agency and have made reservations for July 13 through July 20, 2018.
The centerpiece of our excursion will be a two-day tr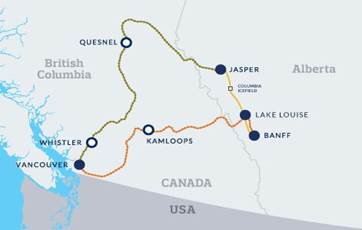 ain ride aboard the Rocky Mountaineer from Vancouver to Banff with an overnight stay in Kamloops, the bottom route in this map marked in red. 
The Rocky Mountaineer offers panoramic Vista Dome viewing and gourmet dining as it travels past snow-capped mountains, glacial lakes, rushing rivers and the sheer unspoiled wilderness of the spectacular Canadian Rockies.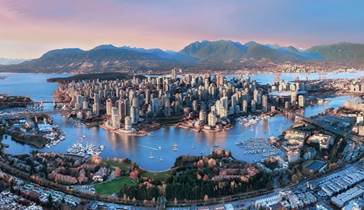 We begin with three nights and two full days in Vancouver, a busy West Coast seaport in British Columbia that is among Canada's densest and most ethnically diverse cities. On the first day of touring we will explore the wonderful natural beauty and the many different attractions of the city of Vancouver.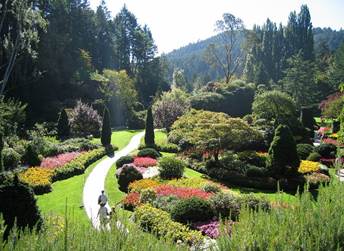 On the second day we board a ferry to nearby Victoria, the capital of British Columbia, and enjoy a tour of the city and then the famous Butchart Gardens.  In the summer the Rose Garden is in full bloom and is filled with colors and scents.
The next day, we embark on our two-day train trip on the Rocky Mountaineer with an overnight stop in Kamloops. The train trip ends with three nights in Banff, in the Province of Alberta, at the Rimrock Resort Hotel.
Optional activities for our first day in Banff include:  sightseeing, golf, hiking, or health spa.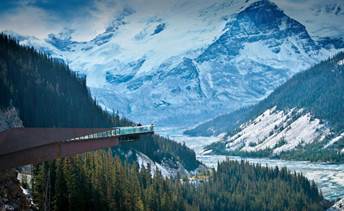 Our second day in Banff features an excursion to the famous Columbia Ice Field and Jasper National Parks.  First formed some 200,000 years ago and now encompassing some 125 square miles of ice over 1000 feet in depth, the Columbia Ice Field is the largest remaining ice field in North America, feeding seven different glaciers that extend into surrounding valleys.  The Athabasca Glacier, on which we will have a chance to ride and walk, peaked in extent in 1840 and has been shrinking ever since.  Again, spectacular scenery.
After a Gala Dinner at the Rimrock Resort Hotel, our trip ends Monday, July 20 with a morning bus ride to Calgary for flights home.
There is a July 11-13 pre-tour extension of the trip in Seattle, to include a tour of the city and the port, the Space Needle, and the Chihuly glass museum on July 12 and a tour of Boeing's Everett factory (where they build the 747, 767, 777, and 787 aircraft) with continuing transport to Vancouver on July 13.
---
More details and pricing will be available as soon as 2018 prices are set. Here is the day-by-day itinerary, excluding the pre-tour and post-tour extensions.

Day 1: July 13, 2018.  Arrival in Vancouver (three nights at the Marriott Hotel)
Day 2: Sightseeing in Vancouver
Day 3: Ferry trip to Victoria and Butchart Gardens
Day 4: Train to Kamloops (one night in Kamloops)
Day 5: Train from Kamloops to Banff (three nights at Rimrock Resort)
Day 6: Banff: optional sightseeing, golf, hiking, or spa
Day 7: Columbia Ice Fields and Jasper National Park, final reception and dinner
Day 8: July 20, 2018: Depart Banff to Calgary for flights home.