Class News
Chris Getman '64 reports on lunch at Benjamin Franklin College
The New Haven monthly Class of 1964 lunch was held at Benjamin Franklin College on November 1, 2017. Attending were 22 classmates: Kip Burgweger, Sam Crocker, Bill Duesing, Billy Fischer, Steve Floman, Bill Galvin (who suggested the event), Chris Getman, Butch Hetherington, Steve Hoffman, Terry Holcombe, Jay Huffard, Peter Jokl, Ralph Jones, Edward Massey, Bill Morse, Hank Satterthwaite, Will Sawyer, Ed Shaw, Ed Trippe, John Tully, Robert Whitby, and Jim Whitney.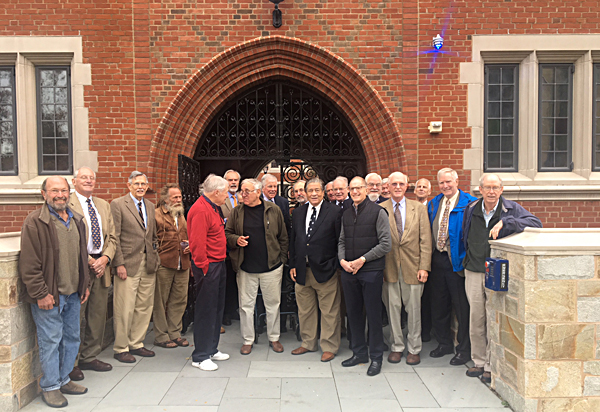 Head of College Charles Bailyn greeted and hosted us with beer, wine, and soft drinks in his beautiful home. He gave an engaging overview of issues surrounding heading a new college including building a fellowship, getting to know students, and choosing and naming the college mascot.
Despite Ben Franklin's desire to have the turkey as the national bird, and rejecting "Lightning" as the name, Professor Bailyn announced the formation of a worldwide consortium to solve the problem. Given the fact that Pauli Murray College, for whatever reason, had selected the lemur as its flag bearer, he opined that the likely choice was an animal or bird which preys on smaller mammals. Getman's suggestion of "Deke" was rejected. (To be continued.) Professor Bailyn also pointed out that both colleges should benefit from Yale's decision to enhance its exposure to the sciences.
We then headed across the Len and Mary Ann Nyberg Baker courtyard to the Class of 1964 Gate which is on Prospect Street off the freshman quad. Freshmen assigned to the two new colleges, as well as Silliman and TD freshmen, do not live on the Old Campus, so the these colleges have designated quads for their freshmen. Professor Bailyn noted that the gate is the first point of entry for frosh to see the college.
We then proceeded to the Fellows Lounge, past the dance studio, shared with Pauli Murray, and enjoyed a nice buffet at the guest rate of $5. All agreed that it was a very nice event, and most were impressed by the design and construction of both colleges. Though very up-to-date, the leaded windows are triple-paned, and by design some of them are cracked and/or broken to give more authenticity. As a result, the colleges look as if they've been part of the campus forever.
In the eyes of many of us, the new colleges are a triumph for both Yale and New Haven.