In Memoriam
Per Henrik Wickstrom
Per Wickstrom passed away on December 29, 2017. Below are several remembrances. Also see a selection of his paintings on the Visual Arts page of this website.
---
Obituary
Duluth News Tribune
January 7, 2018
Dr. Per Henrik Wickstrom, 75, of Duluth, passed away Friday, December 29 following an eleven-year journey with prostate cancer.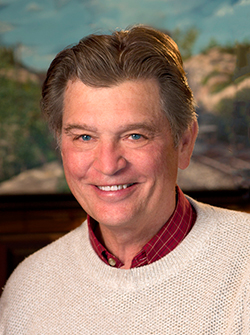 Per was born in Omaha, NE, to Gustave and Arlie (Henrikson) Wickstrom on July 28, 1942.
Per loved and embraced life in all its phases. Humility, skill, strength, and kindness were his hallmarks.
Per graduated from Benson High School in Omaha after which he went to Yale University for college and medical school. He studied hard but still made time to play football and for two years was selected All-Ivy League Tackle. He also played rugby during college and medical school at Yale and during his internship and surgical residency in Minneapolis.
During medical school, not one to be idle, he spent two summers in Jamaica studying the epidemiology of diabetes in the Jamaican population, and one summer in San Francisco working with the Public Health Service.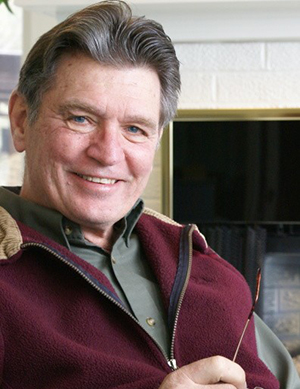 After medical school he moved to Minneapolis for a rotating internship and five-year surgical residency at Hennepin County Medical Center (HCMC). While there he met his wife, Elaine Erickson, who worked in the hospital's emergency room. They were married in March 1971.
In 1974, on completing his residency, they moved to Ellsworth Air Force Base near Rapid City, South Dakota, to fulfill his military obligation, which had been deferred for education. After those two years, Per returned to Minneapolis to enter a fellowship in cardiovascular surgery at the University of Minnesota.
Two and one-half years later, in January 1979, he joined his mentor, Hovald (Buzz) Helseth, and friend, Bjorn Monson, in their busy cardiovascular surgery practice at HCMC and St. Louis Park Clinic in Minneapolis.
In 1983 Per left that practice, starting the heart-surgery program at St. Mary's Hospital in Duluth with Dr. Neal Vanstrom. During his time at St. Mary's/Duluth Clinic, he held various positions on the Duluth Clinic Board, Duluth Clinic Foundation Board, and St. Mary's Hospital Board. He served several terms as Chief of Cardiothoracic Surgery at the Duluth Clinic, and was a past president of the Minnesota Chapter of the Thoracic Surgical Association.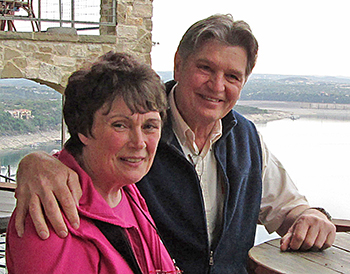 Per was honored to be named the first "Physician of the Year" at the Duluth Clinic in 2002.
He retired from his practice in January 2007. In retirement he became seriously involved in CHUM, Duluth's nonprofit responsible for the Homeless Shelter, Street Outreach, Food Shelf and many programs to help homeless people find homes, employment, and child care. The work of CHUM was one of his passions.
In retirement he became an artist, first with watercolor, then acrylic, and finally with his favorite, oils. In the last decade he has amassed quite a collection.
---
Article
Duluth News Tribune
January 11, 2018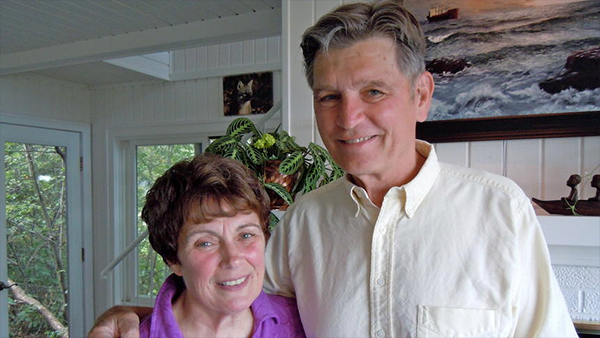 After saving lives during a distinguished career as a surgeon, Duluth's Per Wickstrom devoted much of his retirement to making lives better.
Wickstrom, who lost an 11-year battle with prostate cancer on Dec. 29 at age 75, is being remembered as a great surgeon, a giving man and talented artist who touched many lives in the Duluth community.
"He was very generous, very supportive of me, very open and loving in all ways," said Lee Stuart, executive director of CHUM, the Duluth nonprofit that benefited from the extensive volunteer efforts of Wickstrom and his wife, Elaine.
Per Wickstrom, a cardiothoracic surgeon, retired from Essentia Health in 2007 after being diagnosed with cancer, and in his retirement he had more time for his work with CHUM.
Wickstrom served on the CHUM board from 2007 to 2014 and was one of its most generous investors, Stuart said.
Wickstrom not only volunteered at CHUM, but he donated all of the money he made from selling his paintings to CHUM.
"It was great for him because it honored his creativity, and for the person who bought it (because) they got something truly beautiful," Stuart said.
Wickstrom grew up in Omaha, Neb., and went to Yale University for college and medical school.
He moved to Minneapolis for an internship and five-year surgical residency at Hennepin County Medical Center in 1969. It was there that he met his wife, who was an emergency room nurse.
"I met her on the first day of my internship in the ER, and I think she saw that I needed guidance," Wickstrom recalled in an article published by Essentia Health several years ago. "Interns don't know a whole lot about what's going on, but nurses do. They're assigned a doctor and I was her assignment."
They married in 1971, and in 1983 they moved to Duluth, where Wickstrom helped start the heart surgery program at what was then St. Mary's Hospital, according to his obituary. During his time at St. Mary's and the Duluth Clinic, now part of Essentia, he held various positions and served several terms as chief of cardiothoracic surgery.
That's when Barbara Johnson met him.
In 1996, Johnson had been in and out of doctors' offices and hospitals for a year, trying to find out what was wrong with her. Then one day in February, Johnson was on her daily lunch walk in downtown Duluth when she felt out of breath.
"The following day I had an angiogram and that was on Feb. 12, and on the 15th I had double bypass surgery," Johnson said.
Wickstrom performed the surgery, and Johnson said he was "just a humble, caring person."
"He made you feel so good that you were in his hands and he was going to take good care of you," she said.
Johnson said she felt much better after surgery, and she owed it all to Wickstrom. Two years ago, she got a chance to thank him when they both were at the Essentia fitness center.
"I never liked to bother him about his past because he was retired, but I just had to go up to him and thank him for getting me a new lease on life," Johnson said. And she was glad she did.
"It was 22 years ago that I had that surgery and I'm in better health now than I was then," she said. "I was very lucky and very happy to tell him what a great thing it was to give me that extra time."
Mary Schmitz, development director at CHUM, worked with Wickstrom at CHUM and she said he was there nearly every day. In the summer of 2004 and 2005, she recalled, he and his wife really stepped up.
"We had a four-family shelter at the time, but we were so overloaded at one point that we had 10 families with children staying with us," Schmitz said. "So Per and his wife and a couple other members of Gloria Dei Lutheran Church got together and decided that they had space at Gloria Dei where they could keep some of the families."
Schmitz said Wickstrom and his wife would bring snacks every day and even cook dinner for the families on occasion. They stayed in touch with two of the families after they left the shelter.
"He was fabulous. I loved working with him," she said. "I talked to him at least two to three times a week for quite a few years. He became a good friend who also provided personal support to me. Having him gone is kind of a big hole in my heart."
CHUM's Stuart said she knew about Wickstrom's illness for many years, and was grateful that she was able to visit him briefly before his death.
"He and his wife, Elaine, are a real pair. I value the financial support, but I value the human support even more," Stuart said. "I know that through his faith and through his family that his good work will continue."
Visitation for Wickstrom will be held today from 5-7 p.m. at Dougherty Funeral Home in Duluth, and Saturday from 10 a.m. until the 11 a.m. memorial service at First United Methodist Church in Duluth.
---
CHUM Per Wickstrom Fund
Per Wickstrom and his wife Elaine were very involved in The Churches United in Ministries (CHUM) in Duluth, Minnesota, after Per's retirement in 2007. 
CHUM provides help for the homeless, the unemployed, and those in need of food and child care. Per was passionate about helping others through the CHUM programs and spent much of his time during the last ten years working with CHUM.
Accordingly, Per's Yale roommates have established a memorial fund — The CHUM Per WIckstrom Fund — to honor and remember Per.  If you wish to donate, make your check payable to "The CHUM Per WIckstrom Fund" and write "Per Wickstrom Yale" on the memo line. Send to:
CHUM
102 West Second Street
Duluth, MN 55802
For more details of how to give, see CHUM's Contributions page or call Lee Stuart at (218) 720-6521 ext. 201. Electronic funds transfers to CHUM are possible, and marketable securities can be donated. CHUM also accepts matching gift donations from employers.
---
Remembrance, Pete Putzel '64
Per H. Wickstrom died on December 29, 2017, following an eleven-year battle with prostate cancer. For most of his adult life he lived with his wife Elaine in Duluth, Minnesota, where he was a highly accomplished cardiothoracic surgeon and, following his retirement in 2006, an accomplished painter and extraordinary humanitarian.
Per grew up in Omaha, Nebraska and graduated from Benson High School. He arrived in New Haven in September, 1960. From sophomore year onward he was a member of Calhoun College.
Although he had been a football stand-out in high school (and had been recruited to play football by Dartmouth), someone forgot to tell the Yale coaches anything about him, and he showed up for freshman football practice as an unrecruited "walk-on." The coaches soon learned about him. In those years, as we know, freshmen were ineligible to play varsity football. Per started every game at tackle during his freshman year.
The following season Per moved up to the varsity and became a starting tackle mid-way through his sophomore year. He started every game for the rest of his college career and, to the best of our recollection, never missed a game because of injury.
But that doesn't even begin to tell the story. In those days — unlike today — there were strict limits on substitution, so Per played offense and defense (and, of course, played on all the special teams as well). Today football linemen generally weigh 275-300 pounds, even in college. Per played at 200 pounds, and he was routinely outweighed by everyone whom he played against.
Of course, a major highlight of his football career was the Yale-Harvard game of his senior year. As we all will indelibly remember, The Game had been scheduled to be played on November 23, 1963. However, the day before — November 22 — President John F. Kennedy was unforgettably assassinated in Dallas.
The football game was called off and then re-scheduled for the following weekend. It was played on national network television. None of his friends will ever forget watching the Yale team beat Harvard 20-6 in the final victory of Per's football career. During his three years on the Yale varsity, Per was variously named to the first team All-Ivy League and the All-East teams.
For further recreation, Per was a shotputter on the Yale track team and, starting in sophomore year and throughout medical school, played club rugby for Yale. To our knowledge he set a record that still stands today as a rugby starter for seven consecutive years). Astonishingly, his rugby career continued well into his surgical residency in Minneapolis.
Athletics were only one of his many college activities. He was an accomplished cartoonist for the humor magazine, The Yale Record. Everyone who ever shook his hand or saw him in an operating room know what enormous paws Dr. Wickstrom had — and his giant hands certainly served him well on the football field — but he was as deft with a cartoonist's pen as he later became with a scalpel or a paintbrush. In his spare time he carried a crushing course load as a pre-medical student, and he was admitted to the Yale Medical School during his senior year.
But simple facts do not adequately convey the special personal qualities that his classmates and friends from those years remember so vividly. As we know, the Yale Class of 1964 contained some extraordinary individuals. Our class has included many men of character, accomplishment, and prominence in business, government, journalism, medicine, law, and academia. Even in this company, Per Wickstrom was recognized as among the most respected men in his class.
All of us who knew him recall that, even as an undergraduate, he had deeply felt compassionate and idealistic reasons for wanting to become a doctor. All of us remember his quiet sense of humor and his ability to tell a funny story with perfect timing. And no one will forget his tour de force presentation of his artwork during our fiftieth reunion, a talk that can be seen here by those who missed it.
But, above every other quality, his qualities of character stood out throughout his undergraduate years and throughout his lifetime. Following his death, one friend, an accomplished musician, wrote, "Per was one of those still waters that run unfathomably deep. He never told you the expected; he told you his true opinion, but always with wisdom and tact. To know him was to love him." And a former football teammate wrote, "He was one of the finest people whom I have ever known. As I reflect back, it was only two years that we spent together, yet he had such an enormous influence on my life." 
At his memorial service, patients, medical colleagues, and members of his church and community spoke lovingly of these same qualities. These remembrances fully convey the love and respect that all his classmates and friends have held for Per throughout his lifetime.
Per graduated from the Yale Medical School in 1968 and entered a rigorous five-year residency program in cardiothoracic surgery at the Hennepin County Medical Center in Minneapolis. As a young resident he was assigned to work with Elaine Erickson, an attractive emergency room nurse. They married in March, 1971 and were happily married for the ensuing forty-seven years. Following a stint as an Air Force doctor, he became a heart surgeon at Hennepin County. In 1983 he and Elaine moved to Duluth, Minnesota where he and a partner founded the Duluth Clinic Cardiac Surgery Unit, which soon became renowned in the mid-west for the quality of its care. From that time onward, Dr. Wickstrom was recognized as among the most prominent and successful heart and lung surgeons in Minnesota, and his patients, friends, and colleagues celebrated both his technical expertise and his special qualities of compassion.
In his spare time, Per Wickstrom enjoyed a rugged life outdoors, including annual duck-hunting expeditions in North Dakota and elsewhere. In the autumn of 2017, even as his strength was failing from his final illness, Per ventured for a final happy duck-hunting trip.
In 2006, following his initial diagnosis of prostate cancer, Per Wickstrom retired from the practice of surgery. With the same intensity that he had devoted to the practice of medicine, he took up two new passions: painting and caring for the homeless.
From his beginnings as a Yale Record cartoonist — and throughout his medical career, when his sketches of patients' hearts and surrounding veins were invaluable medical tools — Per showed special aptitude as an artist, in watercolors, oils and acrylics. His paintings — particularly of wildlife — may be viewed online and on our class website. We would be remiss were we not to mention his special aptitude for painting ducks. (See his "passions" presentation below).
Quite apart from Per's life as an artist, he and Elaine have devoted themselves to caring for the homeless in the Duluth community. Through their own church and the Duluth Churches United in Ministries ("CHUM"), Per and Elaine welcomed homeless families into their own home, mentored their children, and helped to feed, clothe, and support them. Never content merely to lend financial support, they became virtual family members of these people. As a tribute to their selfless, charitable devotion to these families, Per's roommates have established the "CHUM Per Wickstrom Fund" (details above).
As saddened we are at Per Wickstrom's untimely death, his classmates, teammates, and friends celebrate an extraordinary life, fully and beautifully lived.
---
Per Wickstrom's talk on "Why I Paint"
Here is a 9-minute talk by Per Wickstrom presented at the 50th reunion of the Class of 1964 on May 31, 2014. It was one of 15 presentations during a session entitled "A Kaleidoscope of Passions" (see all the talks).
You may prefer to view the video enlarged to full screen. If so, click the "Full screen" icon visible at the lower-right corner of the screen when the video is playing.